Spanish Master's Degree in Translation and Interpretation
Universidad Autónoma de Madrid (2008)
Full time freelancer since 2009
Specialized in Business and Finance,
broad experience in Legal and Technical translation,
also works extensively in the fields of IT, Marketing, Tourism and Literature
Native speaker of Spanish (from Spain)
Familiarity with foreign cultures: worked and lived
in Germany, Portugal, Finland and France, besides Spain
Translations that read like originals, all usual formats accepted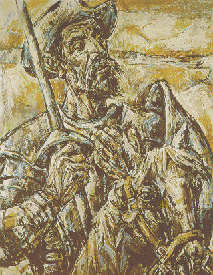 LANGUAGE PAIRS
German (DE) > Spanish (ES)

English (EN) > Spanish (ES)

French (FR) > Spanish (ES)

Finnish (FI) > Spanish (ES)

EMPLOYMENT HISTORY AND EDUCATION
Full-time professional freelancer since September 2009,
with some initial in-house experience working at
Jaba Translations, Portugal (June 2010-January 2011)

Sworn translator for French <> Spanish,
Spanish Ministry of Foreign Affairs

Master's Degree in Translation,
Universidad Autónoma de Madrid, Spain (2008)

Partial studies of a Master's degree in Economics,
Universidad Nacional de Educación a Distancia, Spain (2007-2010)

Introduction course to literary translation FI>ES (August 2019)
FILI - Finnish Literature Exchange, Helsinki, Finland
(previous weekend-long courses in April 2018 and February 2019)

Based in Madrid since 2012, with temporary stays in
Helsinki, Finland (2012-2013), Rennes, France (2015-2016)
and Leipzig, Germany (2016-2017)
FIELDS OF EXPERTISE
Business & Finance:

business reports, commercial contracts, society bylaws, terms
and conditions, mortgages, investment funds, real estate,
product guarantees, sales management...

Legal:

certificates, deeds, agreements, powers of attorney, court minutes,
service contracts, license agreements, import/export agreements,
declarations of heirs, deeds of delegation of authority...

Technical:

machine user manuals, product documentation, machinery instructions,
technical dictionaries, plant inspection documents, vehicles,
lighting systems, pump systems...

IT:

software, user guides, web sites...

Marketing:

business letters, catalogues, advertising...

Tourism:

travel guides, hotels, gastronomy...

Literature:

novels, shorts stories, books on history and culture...
LANGUAGE SKILLS
German:

Master's Degree in Translation (2003-2008),
Goethe Institut (2006-2007),
2 years living in Iserlohn and Bochum, Germany (2008-2010)
1 year living in Leipzig, Germany (2016-2017)

English:

Master's Degree in Translation (2003-2008),
Certificate in Advanced English (2007)

French:

Master's Degree in Translation (2003-2008),
French Elementary and High School (1990-2003),
DALF C1 (2006),
1 year living in Rennes, France, as an exchange student (2005-2006)
1,5 years living in Rennes, France (2014-2016)

Finnish:

CIMO summer course (2007),
Helsinki Summer University course (2009),
1,5 years living in Helsinki, Finland (2012-2013),
Spanish Official School of Languages, 6 grades (certificate in 2019)
SOFTWARE

memoQ Translator Pro

SDL Trados Studio 2014

MS Office 2010
Adobe Photoshop 6.0
Dreamweaver CS3
McAfee Internet Security
DAILY OUTPUT
2,500 - 3,000 words
Feel free to ask for an estimate or request any information!
flavio.belisario [a] gmail [dot] com